Hey there! Some links on this page are affiliate links which means that, if you choose to make a purchase, I may earn a small commission at no extra cost to you. I greatly appreciate your support!
Trying to Find the Best Dog Grooming Clippers for Your Dog?
Wondering why those cheap clippers you bought for your own hair just won't work that great on dog hair?
Yes, I know…we've tried using the hair clippers my hubby had bought for himself on our Shih Tzu's and Teddy Bear's hair too.
Okay, before we get too far into this…
No, we didn't try shaving the hair off our kid's stuffed teddy bear. I'm not talking about that kind of teddy bear.
I'm talking about the Teddy Bear dog breed…
Anyways, to get back on track here…
The regular hair clippers really didn't cut that well at all…although their fur is so soft and silky…
It didn't want to cut it!
So, what the heck is going on here? Why won't they work?
Clippers made to cut human hair might look like the same exact thing as those more expensive dog grooming ones at first glance…
But, just because they look the same on the outside doesn't mean they are on the inside…
What Makes Dog Grooming Clippers Different from Human Hair Clippers?
Clippers meant for dogs have blades designed for different types of fur or hair, while human clippers are just designed for one type of hair.
We only have one type of hair on our heads People!
Dogs on the other hand, have all kinds of hair…fluffy, coarse, wiry, long, curly, and so on. And, those dog grooming clippers are made for it, they're designed to cut through all kinds of hair! Plus, dog grooming clippers are designed to stay cooler after longer use since it takes longer to cut a dog's coat than it would for our own hair.
Speed Makes a Big Difference – (spm)
Another thing which is much different is speed or strokes per minute (spm) when comparing people clippers to pet grooming clippers. The ones for dogs and cats either have variable speed motors or motors with high spm…up to 5,000 strokes per minute.
You can read more about this on the post by Cuteness.com here  Dog Grooming Clippers Vs. Human Clippers.
Can you imagine what we'd look like if we had hair on our heads like our dog's fur?
Heh, that'd look sooo weird!
Think about it…
Our hair is pretty much the same all throughout, while our dog's fur is in layers…it's really thick when you think about it, especially on certain breeds such as huskies, or even Shih Tzus. Plus, these layers have different types of hair.
Soooo,
Sorry to burst your bubble, but those clippers for $20 or $30 bucks just won't cut it!
They might work sort of…but, it'll take forever and a day to get the job done.
Along with a ton of frustration when they overheat and clog up with fur. Stopping a million times to let it cool off and clean out the hair every few swipes makes the whole hair cutting ordeal take so much longer than it ever should be…
Meanwhile, your poor dog is acting like a total misbehaving beast…
Squirming, nipping, and doing every thing it can to get away from you and those stupid noisy clippers…
But, if going through all that misery, a grumpy dog that hates you for days, and maybe a sore back after spending that forever and a day trying to clip your dogs fur is your cup of tea…

Well, by all means…go for it then!
I'd much rather have dog clippers that get the job done quicker and without all the hassle!
Needing animal clippers that would cut through thick or matted hair, I thought I'd do this comparison review of two different Models of Andis Dog Clippers that work excellently for use on dogs with thick matted fur since that's usually the type of dog fur that causes the most headaches.
What to Look for When Choosing a Dog Grooming Clipper
Detachable blades
Check what sizes and type of blades are available
Andis, Oster, Wahl, and Laube brands usually have the same types of Snap-on blades, so they're pretty much interchangeable
Recharge time (Cordless)
Removable/replaceable battery (Cordless) – so you can swap out between batteries if needed
Placement of control buttons
Durability – is it tough enough to withstand being dropped? (I don't know about you, but I'm always dropping things!)
These are just some things you'd want to check into before buying any clippers for dog grooming. Yes, I know there are those cheaper ones that sound like they'd work and maybe they'd be fine for awhile but more than likely they won't work for too long and you'll need to get another one.
It all depends on how often you plan on using it. If you have more than one dog to groom though, I'm pretty sure you'd want to make it as easy and quick as possible…at least I sure do! My back can't take hours of bending while holding a squirmy dog anymore…let alone two of them!
Plus, it's nice to have clippers that won't scare them half to death either from the noise. Our dogs hate the sound of the cheap ones we'd had before…they were so loud! So the search began…
And after looking through enough dog clippers and their details to make me want to cry, I finally found ones I'd be happy to use on my dogs.
Which is why I chose these two pet grooming clippers from Andis to review…they're considered to be very quiet for dogs that are scared of the noise. Plus, they are both made for dogs with thick fur or hair that mats easily.
So, let's get on with the reviews then shall we? Before I make you want to cry too, lol.
Please note: *Affiliate Disclosure at bottom of this page.*

---
Andis UltraEdge Super 2-Speed Detachable Blade Clipper, Professional Animal Grooming AGC2
---
Product: Andis UltraEdge Super 2-Speed Detachable Blade Clipper, Professional Animal Grooming AGC2
Model: 22360
Price: Click Here to Check Prices at Amazon
Rating: 4.5 out of 5 ☆☆☆☆☆ *
Size: 10 x 8 x 2.5 inches
Weight: 15.7 Oz. (less than 1 pound)
Speed: Low: 3400 spm High: 4400 spm
Made in: U.S.A.
Warranty: 12 month limited warranty *
The thing that caught my eye on this Andis clipper was that so many other dog owners were saying how extremely quiet this runs.
Plus, many have found that it cuts through thick, matted hair quite easily…just what I'd need for our dogs!
Pros:
Heavy duty – All coats & breeds even thick & matted coats (Super Duty Level)
Stays cool
Quiet running
14-foot heavy duty cord
Shatterproof
Detachable blades
2-speed rotary motor
#10 UltraEdge Blade (with chrome finish is included)
Works with all UltraEdge blades, CeramicEdge, and ShowEdge blades. Also works with Oster A-5 blades. (blades sold separately)
Cons:
Other sizes of blades not included…only #10 UltraEdge as listed above
Any Guards to help trim hair to different lengths have to be purchased separately
Clipper became hot after a short while according to a few of the reviews on Amazon
Didn't work very good on really fine, fluffy fur according to a few other dog owner's reviews on Amazon
Blade attachment fall off – according to one customer review
Would I Recommend The Andis UltraEdge Super 2-Speed Clipper?
Yes, I sure would!
I'd definitely recommend these dog grooming clippers to those dog owners that have a dog or more than one dog that needs to be clipped every couple months or so. I know these are somewhat expensive, but in the long run they'd save you money by not having to bring your dog to a groomer to do it.
Plus, there's always the hassle of having to take the time to make an appointment, bring your dog there, and then have to wait for however long it takes to go pick them up again that day…lot of running around that I don't care to do.
And, yes, my dogs are babies…
They don't like being left somewhere without me, so I'd rather they don't have to go through the extra anxiety of being left with a stranger…it's enough that they go through getting a hair cut as it is for them…no, they don't exactly enjoy it!
I also know most dogs are absolutely terrified of the awful racket so many of the other clippers make, which makes it almost impossible to keep them still when you're trying to cut their fur.
So, if you need something quiet running, like we do, these would be an excellent choice in my book.
You can find them here at the link below:
>>Andis UltraEdge Super 2-Speed Detachable Blade Clipper, AGC2 (Model 22360)<<
*(Please note: Price, ratings, and warranty are subject to change.This is what I found listed at Amazon at the time of this writing and this site has no control over any changes there. You can find any updated Warranty info under the Product Details-Product Warranty section there in a PDF link.)
---
Andis AGRV Powergroom + Clipper with #10 UltraEdge Blade
---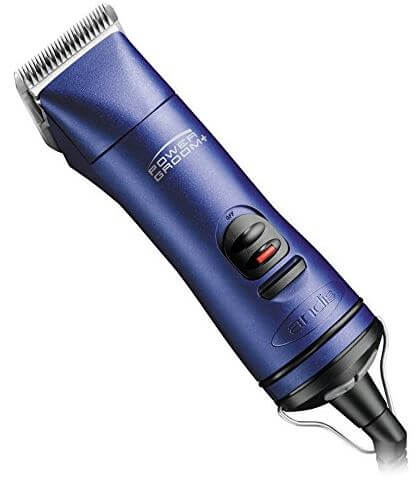 Product: Andis AGRV Powergroom + Clipper with #10 UltraEdge Blade
Model: 63360
Price: Click Here to Check Prices at Amazon
Rating: 4.1 out of 5 ☆☆☆☆.☆ *
Size: 10 x 8 x 2.5 inches
Weight: 2.6 pounds
Speed: 5 speeds: 2,500 – 5,000 spm
Made in: U.S.A.
Warranty: Manufacturer's 12 Month Limited Warranty
The Andis AGRV Powergroom is another one that I keep finding others recommending for dog owners that need a quiet, durable pet clipper that will cut through pretty much anything…
So, if your dog's hair is the kind that mats up a lot and needs to be cut rather often these clippers would do a nice…
And Quiet job of it. Plus, there are a few added touches to these Super Duty Clippers when comparing them to the Andis UltraEdge Super 2-Speed mentioned above.
Pros:
Includes #10 UltraEdge Detachable Blade
Stays cool
Quiet Running
5 speeds settings – 2,500-5,000 spm
360° tangle-free swivel cord
Optional to use as a cordless clipper with AGR + battery pack
Super Duty Clipper for dogs with any coat – single coat to double coated dogs
Works on thick or matted fur
Detachable blades – compatible with all UltraEdge blades, CeramicEdge, and ShowEdge blades.
Break-resistant housing
Remembers last speed used after turning off
If using optional AGR
Cons:
Other dog owners that have tried this one on their dogs stated in their reviews on Amazon that it does get hot – although some say after prolonged use while a few said in a short while
Power cord problems – faulty power cord that kept shorting out causing clippers to stop and start as they were using them.
On/Off switch placement – too easy to turn off accidentally
Not enough power
Extra blades & blade guards sold separately
The Andis AGRV Powergroom + Clipper is highly recommended and used by quite a few dog groomers and other pet owners alike. These pet clippers can be used on not only dogs, cats, but even livestock. I like the fact that you have the option of using it as a cordless clipper, especially if you have many dogs or other animals that need to be groomed and trimmed up.
This would be a great tool for those that own a variety of animals that need professional clipping…dogs, cat, horses, and other livestock.
I can't imagine trying to cut a cat's fur going well using anything really…I'd have to have plenty of band-aids ready for that mission…
But, apparently some people do and survive!
Would I Recommend the Andis AGRV Powergroom + Clipper?
Yes, I'd definitely recommend! I think these would be worth trying out if you have more than one dog or other animals to groom and you'd like something that has more control and precision than a two-speed model.
The 5-speeds on this would definitely be helpful in cutting the hair in all areas of the dog…just lower the speed for better control and quietness around any sensitive areas like the face. Turn it up to get the large areas done quickly and job done!
This one is a bit heavier though when compared to the Andis UltraEdge Super 2-Speed mentioned above, so it might be a bit tiring to use if you have to use it all day as a dog groomer. But, it all depends I think on what you prefer to use…some find a lightweight clipper to be hard to use as well and probably not all that durable.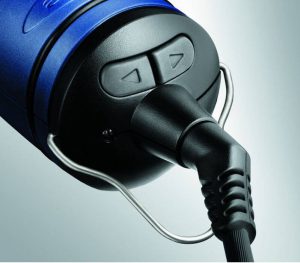 I definitely like the fact that it's a very durable pet clipper…according to one of the professional groomer's reviews on Amazon, it mentions that she's had it kicked out of her hands quite a few times and the clippers work fine even after hitting the floor.
Plus, another great feature is the 360° swivel cord, which prevents the power cord from getting all tangled up as you're using it, especially in those hard to reach areas where you have to angle the clipper just right.
The only thing I wish that would be included is the battery pack, but I suppose not everyone wants or needs that and if it was included the price would be that much higher.
Anyways, I think these professional animal clippers would be a great deal since you can either use it corded with the swivel cord that is included with it or cordless if you want…no searching for that pesky outlet to plug into anymore for you!
So, if you need a quiet, professional dog grooming clipper with the option of being either corded or cordless you can find it at the link below:
>>Andis AGRV Powergroom + Clipper with #10 UltraEdge Blade<<
I'd love to hear what type of dog grooming clippers you find the best? What brands and models have you tried on your dogs? Have you tried either one of these models of Andis animal clippers? What did you think of them?
Let me know in the comments below!
Thanks for reading!
Please share this if you like it. I'd appreciate it, and our little doggies do too!

*Please note: Price, ratings, and warranty are subject to change.This is what I found listed at Amazon at the time of this writing and this site has no control over any changes there. You can find any updated Warranty info under the Product Details-Product Warranty section there in a PDF link.)