Hey there! Some links on this page are affiliate links which means that, if you choose to make a purchase, I may earn a small commission at no extra cost to you. I greatly appreciate your support!
Hey there, fellow dog owners!
Need Tips for Training Your Puppy?
I just got news of this happening today, so I thought I'd share it with you all…I know it's rather short notice, but I'm sure it'll help you out with your puppy, so that's why I want to share it with you in the hopes you can go and check it out later today.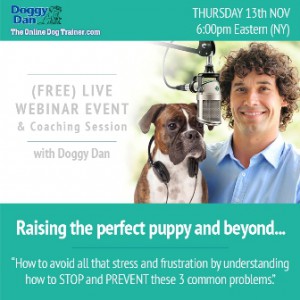 My good friend, Doggy Dan has just told me about an upcoming, live training session he's doing… and he's asked me to invite you to come along!
It's part of a series of free, online coaching events (or webinars) he's running. He says they pack out really quickly, so you better jump onboard quick…
Keep reading to find out where you can sign up!
Today
Doggy Dan is covering Puppy Training, which includes all dogs from 8 weeks to about 18 months.
So if you need a hand with some of the fundamentals, or you need to tackle certain behavioral issues, then this webinar is for you.
Or, maybe you don't have that cute lil' puppy yet, but are considering getting one soon?
Well, this would be a great way to learn some awesome tips from a professional dog trainer so you can start out with your new puppy the right way.
In particular he'll be covering 3 of the most common problems:
Puppy Mouthing and Biting
Training Puppies and Raising Children (all about obedience!)
Walking your Puppy Nicely on the Leash
Here are the webinar details:
"Raising The Perfect Puppy" Presented by Doggy Dan
"How to avoid all that stress and frustration by understanding how to stop and prevent these 3 common problems…"
Thursday, 13th November
3:00pm Pacific (LA)
6:00pm Eastern (NY)
11:00pm London (UK)
Here's a handy time-zone converter tool if you need it.
For anyone that can't make it: the webinar will be recorded and you'll receive a replay link to watch it.
So join Doggy Dan by logging into the online webinar room and enjoy an hour of free dog training. How awesome is that?!
Hope you can make it and if not, sign up anyway and you'll be able to watch the recording at a later time!
It's free to watch, so if this sounds like something you're looking for go ahead and check it out!
Best wishes to you and your furry friend 🙂 -Sherry
*FYI- please note the affiliate disclaimer below and feel free to check out our privacy policy.