Hey there! Some links on this page are affiliate links which means that, if you choose to make a purchase, I may earn a small commission at no extra cost to you. I greatly appreciate your support!
Best Dog Shampoo for Itchy Skin – 4 Legger Organic Dog Shampoo with Conditioner Review
Does your dog end up with dry itchy skin after a bath? Or, maybe it has problems with itchy skin and it's scratching itself to pieces?
There's a couple of things that come to mind that might be causing the itchies for your dog…either it's the shampoo you're using or it has some type of allergy.
Most dog shampoos out there strip out the natural oils in the dog's fur, causing them to itch and scratch after their bath. Especially, if they already have skin problems due to allergies.
One shampoo that I've found doesn't strip out these natural oils is the 4-Legger Organic Shampoo with Conditioner, which is why I thought I'd write a review on it.
So, let's get on with it then, shall we?
4-Legger Certified Organic Dog Shampoo with Conditioner Review
---
 **************************************************************
---

Product: 4-Legger Certified Organic Dog Shampoo with Conditioner – (Conditioning Shampoo)
Price: Check Prices at Amazon
Size: 16 fl. oz. (473 ML)
Made in: U.S.A.
Best Place to Buy: Amazon
The 4-Legger Organic Dog Shampoo is a USDA Certified Organic to Food Standards shampoo, which works nicely for getting that stinky dog clean…naturally!
This shampoo uses all natural, holistic ingredients.
Nothing synthetic or unnatural about it.
Pros:
Hypoallergenic
No synthetic ingredients or detergents
Paraben free
Sulfate free
100% Natural Ingredients – Certified by the USDA as organic to food standards
Biodegradable
Naturally Deodorizing & moisturizing
Cruelty free – no animal testing
Vegan
Gets rid of doggy smell
Natural Insect Repellent – Fleas, flies, mosquitoes, etc.
Recommended by veterinarians & groomers
Rinses out easily – most dogs hate baths, so why make it last longer trying to rinse it out forever?
Good to use on dogs of all ages
Cons:
According to one verified review on Amazon, the shampoo left the dog's fur not very "smooth" after giving their dog a bath with it.
That's the only thing I can find that is negative about the 4-Legger Shampoo.
And, on that note…
It does state on their page on Amazon that it may take awhile, maybe 3-4 baths with this shampoo to get rid of the synthetic residue left behind by those other dog shampoos. That is probably the reason the fur might not appear too smooth at first. So, if you try it on your dog, it might take a few baths before the benefits of this shampoo to show.
But, of course don't go giving your dog too many baths either…such as giving 3-4 baths all in one day just to see how it works wouldn't be a great idea. Just use it like you normally would with other shampoo.
Ingredients: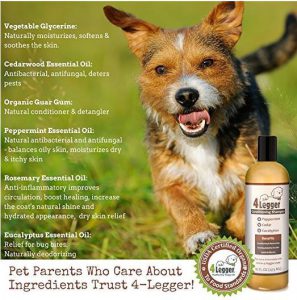 Saponified Organic Coconut
Olive & Jojoba Oils
Vegetable Glycerine
Cedarwood Essential Oil
Organic Guar Gum
Peppermint Essential Oil
Rosemary Essential Oil
Eucalyptus Essential Oil
Rosemary Extract
Organic Aloe Vera
That's it!
Is It The Best Dog Shampoo for Itchy Skin?
My Thoughts on 4-Legger Certified Organic Dog Shampoo:
I really think it would work great on most dogs. But, of course, all dogs are a bit different, just like people. Some have allergies, some take certain prescribed medications for whatever reason…
So, please take into consideration what your dog's condition is…it might work great on most, but not on each and every dog. If you notice any kind of allergic reaction or increased itchiness contact your veterinarian…although it's unlikely to have anything like that happening, I'm adding it here as a disclaimer.
What I Like About This Dog Shampoo
I really love the fact that this shampoo is made from all natural ingredients, no synthetic garbage! Another plus is that it also has essential oils in the ingredients. I've been using essential oils on myself for awhile now for various reasons and think they do an awesome job for what I need them for.
What's so Great About The Essential Oils?
Peppermint, Cedarwood, and Eucalyptus are known to have antibacterial, anti-inflammatory, and anti-fungal properties. Plus, cedarwood is a natural pest repellent, which will keep fleas, flies, mosquitoes, and other pests away from your beloved canine.
Peppermint is not only a great natural antibacterial and anti-fungal substance…it's also great for maintaining and restoring healthy skin! It balances oily skin and moisturizes dry, itchy skin. I know this to be true since I actually use a mix of my own that includes peppermint essential oil and coconut oil on my own human skin…and, it works better than anything I've ever bought from the store at keeping my skin looking nice and, more importantly, not itching!
In the past, I had very dry skin, especially after a shower…even with using lotions and creams for dry skin, it was still dry, flaky, and itchy. I've been using this little mix of peppermint and coconut oils for awhile now and have no problem with my skin anymore.
So, if this mix of mine works for my own skin, a shampoo that has these two essential oils in it should work miracles on the dog's skin and coat too!
And, No…I don't use the shampoo on myself…at least not yet, lol! I wonder though….
Another benefit of Eucalyptus Essential Oil is that it provides relief for bug bites and is naturally deodorizing, which will help keep your dog smelling great. At least until it rolls in something really gross and smelly again as dogs usually do.
Rosemary Essential Oil is another ingredient that has wonderful properties. Not only does it act as an anti-inflammatory, it also improves the circulation, boosts healing, and gives relief to dry skin. Rosemary also increases the coat's natural shine and hydrated appearance.
Organic Guar Gum is a natural conditioner and detangler to keep your dog's skin and coat healthy, shiny, and the fur easier to get a comb through.
Vegetable Glycerine is a natural moisturizer that softens and soothes your dog's skin.
Would I Recommend 4-Legger Certified Organic Shampoo as one of the Best Shampoos for Dogs with Itchy Skin?
Yes, I sure would! I'd recommend giving it a try if you haven't yet. Sounds much better than giving them a bath with unhealthy, synthetic shampoo if you ask me. Plus, it seems to work wonderfully at getting your pampered pooch smelling great, and it's fur is conditioned at the same time…so, with this shampoo you won't really need to use a separate conditioner.
That sounds like a Win-Win to me…no need to buy another product (conditioner) since it's already with the shampoo, which means spending less money. And, another great this is not having to use yet another bottle of conditioner separately, which means taking more time to give your dog a bath!
So, spending less time, and less money while making bath time a healthier ordeal for you and your dog sounds excellent to me…

If it does to you too, you can order it from Amazon at the link below…*
Thank you for reading! I hope you found this helpful…
Please let me know if you have any questions, thoughts you'd like to add, or if you've ever tried this shampoo on your dog…I'd love to hear what you think!
Just leave your comment in the box below.
Please share this is if you like it or found it helpful. I'd appreciate it and my little doggies would too!
*Please also note: Affiliate disclosure at the bottom of this site page.