Hey there! Some links on this page are affiliate links which means that, if you choose to make a purchase, I may earn a small commission at no extra cost to you. I greatly appreciate your support!
What's "The Stuff," Dog Hair Detangler & Conditioner Anyways?
The Stuff, as it's called, is a leave-in hair conditioner and dematting spray for dogs, which is best used after giving your dog a bath. It's a ready-to-use silicone formulated spray.
Other concentrated versions are available, but this is already mixed and ready to go. It comes in a spray bottle, and can be sprayed on your dog right after its bath.
According to many dog owners and even dog groomers this works very well with getting the mats out of their dogs hair and kept the fur nice and soft as well…
Dog Hair Detangler – Review of The Stuff

Product: The Stuff 16 oz. Conditioner & Detangler
Price: Check Prices at Amazon
Price: Check Prices at Chewy
Reviews: 4.4 out of 5 *(based on 335 Amazon reviews)
Size: 16 oz.
Made in: U.S.A
*(Please note: Price and number of reviews on Amazon listed here are at the time of this writing and are subject to change at any time.)
Since this product, The Stuff, keeps coming up in my research on dog grooming tools as something that works super well to get tough mats and tangles out of dog hair I just had to do a review on it…
So, let's get on with it, shall we?
Pros:
Hypoallergenic & Nontoxic
Ready to Use
pH controlled/Acid Balanced
Repels dirt, dust, and urine – Silicone formulated, which keeps the hair follicles closed to dirt, dust, urine, etc.
Keeps coat cleaner longer
Cut Grooming Time – Yaaaaay!
Coat Conditioner for all breeds, long-haired & short-haired
Made in the U.S.A.
Cons:
Spray bottle nozzle didn't work after a few uses
Didn't work as well as it's supposed to for getting rid of mats & tangles according to some dog owners
No ingredient list on bottle
Best Way to Use The Stuff Detangler & Conditioner for Dogs
It's recommended to use The Stuff after giving your dog a bath to get the most efficient use of this detangler. After all, as its a silicone type of formula it seals or closes off the hair ends to prevent dirt, dust, and even the smelly things such as urine from seeping into the fur…
Giving you a dog that will not only stay cleaner, but also smell better for awhile longer…meaning if you own a dog that has fur that knots and tangles every time it goes out, gets stinky a few days or so after a bath…. then this Stuff might just be the trick to an easier life…
What Other Dog Owners Think About The Stuff
Reading through the many reviews of The Stuff over at Amazon, I found that most people that used it on their dogs were quite happy with it and how it works to detangle their dog's hair.
However, to get this to work the best to get rid of really tough mats and tangles you'll need to work this into the fur as close as you can to the skin. And, if it's really matted, it might help loosen it up, but you still might have to do some work to get it out or even have to resort to cutting the matted hair off…depends how much it's matted and also how much of a struggle you want to go through or put your dog through to save that particular bunch of fur.
My Thoughts:
I'd definitely think this detangling spray to be worth a try, especially if your dog is like my Shih tzu, Daisy…
Her fur mats up like crazy!
No matter how often it's brushed…
She goes outside afterwards for a few minutes after a brushing and mats begin to form,
she walks across the room and the fur is tangling up,
I look at her just sitting there and the fur mats up…
Well, that last one might be a little bit of an exaggeration, lol!
*Update*
*Update- I did try this out afterwards, and found the Stuff really does work! Since this post was originally written, I've bought this detangling spray quite a few times over the years, and will continue to do so since it works quite well for Daisy.
Thought I'd share this with you in the hopes that this will work for you and your dog too. No sense struggling with those darn mats that never end!
Plus, your dog will appreciate it too…no more matted up hair or getting the hair pulled as you struggle to get a comb through it.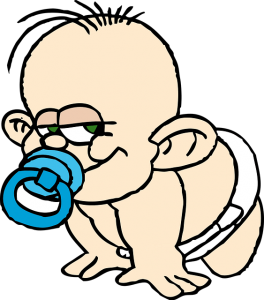 Or, worse yet, having almost no hair left at all…
After getting it shaved almost as bald as a baby's bum by their frustrated owner…
Hopefully, it doesn't get to that point…but, yes, I know from experience…
What our poor dogs have gone through…I'm sure they looked a bit embarrassed when they went out to go potty, so we got them sweaters.
But, they didn't seem all that thrilled with those either, lol.
And, thankfully, of course the hair grows back!
So, if for some reason you went a bit crazy with the electric clippers, don't worry…it'll grow back soon enough!
And, it's the same ordeal again of dealing with the mats and tangles once it does, which is why I find these kinds of hair detangler sprays for dogs a very helpful thing to have around.
You can get "The Stuff" for your dog at either one of the links below:
(and, yes, these are affiliate links, so if you choose to order through these, I'll earn a small commission, at no extra cost to you. Thank you for your support!)
Thanks for reading and I'd love to hear from you too…
Got any Dog Hair Detangler suggestions you'd like to share? I'd love to hear 'em!
Just let me know in the comments box below…
If you like this, please share it! I'd appreciate it and my doggies would too!
Best wishes 🙂 ~Sherry