Hey there! Some links on this page are affiliate links which means that, if you choose to make a purchase, I may earn a small commission at no extra cost to you. I greatly appreciate your support!
Does Your Dog Love Going for Car Rides?
But, its Making a Mess of Your Seats…
Tired of your dog getting mud and fur all over your beautiful car seats…
Or, even worse ripping the seats with their claws?
I know most dogs love going for a ride in the car with their best buddy…mine sure do!
But, the thing is as much as we love our dogs…
They make a mess in the car!
Or, at least most of them do…especially if they're bigger than 5 pounds!
The bigger the dog, usually the bigger the mess…but, they all tend to make a bit of a mess no matter what…no matter how good they are, they can't help it if they get their paws a little dirty or shed some fur while they're in the car.
But, an easy way to keep your car seats clean and intact is to use a durable and heavy duty seat cover. I know I'd rather not have my car seats torn by their sharp claws and it sure is nice to not have to sit on a furry seat either!
We have four dogs, two of them shed a lot especially in the fall and spring it seems…fur everywhere! Thankfully, our two smaller dogs don't really shed at all…our Mocha is a Teddy Bear and the other, Daisy, is a Shih Tzu breed of dog, which don't actually shed. Instead their hair mats up and is a nightmare to keep up on, but that's another story for another day on these breeds of small dogs that don't shed.
Anyways, it's the two bigger dogs, Jade and Argon, of ours that weigh in at 60 and 80 pounds or so that I worry about making more of a mess in the car when it comes to the seats getting torn or dirty. They have much bigger claws and they shed fur like crazy!
Every time they shake themselves it looks like a fur downpour…or, would it be a furstorm?
Anyways, wanting to find something that would help keep the car seats clean, dry, and safe I thought I'd look around to see what others are saying about these dog seat covers…
And found that there are some that actually do work to keep our car seats dry, clean, and the fur off of the actual seat…
So, we won't have to sit on furry car seats ever again!
Hammock Style Car Seat Cover for Dogs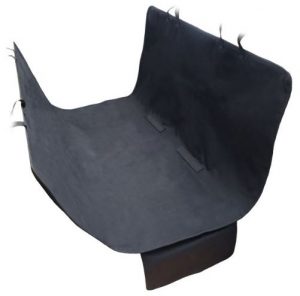 One style that seems to work really well is the hammock style of seat cover that hooks to the front seat headrests and covers the whole back seat including the back of the seats by hooking to the back headrests too.
Plus, these car seat covers keep your dog more comfortable in the car too…
Think about it…your dog often slides around on the seat and ends up sometimes falling off the seat altogether.
Right?
No matter how careful we drive it happens sometimes…our dog ends up landing on the floor!
Unless of course they actually already stay on the floor…
But, most dogs don't…I know mine won't do it either, they can't seem to help it.They want to see what's going on, so they gotta sit on the seat of course! Most dogs love looking out the window and getting fresh air. I've really never seen one that didn't.
After all, they think they're humans too, lol!
So, thinking of that problem, I think a hammock style car seat cover would be an awesome investment. Not only will it protect your car seat from looking like a furry, muddy, torn up mess, but it'll keep your dog a bit safer too. No, it won't protect them from flying out the window should you get in an accident, but at least they won't end up tossed about as much as they are without one.
Will it Help Keep Your Dog From Climbing Into the Front Seat?
Although the Hammock Style Seat Covers for Dogs won't keep the most determined dog from venturing into the front seat with you, it'll definitely make it much harder to do so.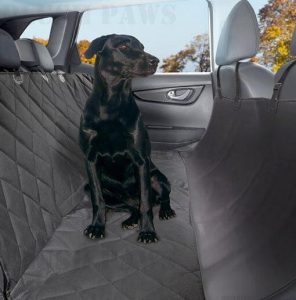 Since it's design is like a hammock in the back seat, the part that connects to the front seats goes up, which make it harder for your dog to get the leverage it needs to climb up the seats. If you've ever been in a hammock, you know how hard it is to get much leverage to pull yourself up and out…same goes for these type of car seat covers.
They'd make it much harder to get up and out of the back seat for your dog to climb into the front seat…

And, if you've ever had your dog trying to sit in your lap when you're at the wheel, you know how it can make driving a very risky business!
Another good idea is to use the pet seat belt that comes with some of the hammock design car seat covers…some not all, provide an actual seat belt to keep your dog in the back seat. It should allow your dog to sit or lay down comfortably though.
You can also purchase a pet barrier that will fit most cars, trucks, and SUVs to further keep a more determined dog in the back seat. I know the pet barrier we bought years ago has come in handy when it came to traveling with our dogs for longer distances and the whole family in our Dodge Durango.
It would have been a crazy, not to mention, frustrating time if we didn't have some way of keeping the bigger dogs in the cargo area and out of the back seat with the kids who were really young back then…geez, one is all grown up already and moved out on her own! She was around the age our son is now…10 or 11 years old at that time and a baby brother…
My, how time flies when you're having fun!
Not all seat covers are made the same, so make sure to look at the details when choosing one:
7 Things I'd suggest looking for when choosing a car seat cover for dogs
Durability
Easy to Clean
Nonslip
Lifetime Guarantee
Seat belts/harness for dogs or at least an ability to add one
Side panels/flaps for protecting side of seat
Size – make sure you measure your actual car's seats correctly according to the seat cover manufacturer's directions.
I did a bit of research on the different seat covers using this criteria myself and found ones you might want to consider are the NAC & ZAC Waterproof Hammock Pet Seat Cover and the Plush Paws Waterproof Pet Seat Cover which are both meant for a regular sized car, but it does depend on your car's actual seat size. They're also available in other sizes meant for larger vehicles such as trucks and SUVs and smaller compact cars too.
(*You can also find other car seat covers sold at Amazon by checking out My Amazon Picks a little bit further down the page here…)
Both had all the things I'd look for in a car seat cover except the NAC & ZAC didn't have the seat belt/harness for dogs that I'd really like to have on ours. However, it seemed to do well for others with keeping their seats clean and their dogs comfy.
Another one that may be worth checking out is the one by 4Knines, which makes a hammock style seat cover *
(*Please note: * these are affiliate links, please see affiliate disclosure at bottom of this page.)
Here are some that you might want to check out!
I'll be adding my reviews here shortly of these car seat covers for dogs and I'll include the link to it once it's done…in the meantime please check these out…

Hope this helps shed some light on the subject and keeps the shedding fur off your car seats!
Thanks for reading and please let me know what you think…
Have you ever used a car seat cover for dogs? Do you have any suggestions you'd like to recommend? Let me know in the comments below…
I'd love to hear from you!
And, one more little thing… if you found this helpful and think someone else may like it too, please share it. I'd appreciate it and our little doggies would too!
Drive safe…
And, have fun while you're at it!