Hey there! Some links on this page are affiliate links which means that, if you choose to make a purchase, I may earn a small commission at no extra cost to you. I greatly appreciate your support!
Dog Toys and Aggressive Chewers–What Toys are Best?
Do you have a Dog that Destroys Everything?
Have you bought toy after toy for your dog and it gets chewed to pieces the same day?
Well, if that's the case, you've got an aggressive chewer that will chew and chew on that toy til nothing is left but the pieces…
for you to clean up time after time.
And, I bet you're tired of it, right?
I mean cleaning up the mess…not your dog!
Of course, you love your dog and just want something that it can chew on safely and without the mess…am I right?
I know how it can be…I own two aggressive chewers myself and I love 'em, but it can be soooo frustrating to buy toys for these two! I've bought so many toys only to see them ripped to bits in a day or two. I'm constantly picking up the pieces after buying toys for these dogs!
At least some toys, but not all! There are some dog toys that DO last…Thankfully!
Durable Dog Toys for Aggressive Chewers
The most durable toys for our two aggressive chewers are made of solid rubber, such as the Kong dog toys, which come in a variety of sizes and shapes to choose from. Plus, some are made to be filled with treats to keep them busy for awhile, which is not only a great way to keep them from bugging you continuously, but these will also keep them mentally stimulated since dogs do get bored too!
Kong Dog Toys
Kong Extreme Dog Toys, Black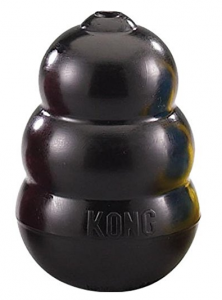 Product: Kong Extreme Dog Toy, Black
List Price: $22.99 Sale Price: $17.27 (for X-Large toy, prices vary according to size!)
Sizes: Small, Medium, Large, X-Large, XX-Large*
Made in: USA
Material: Durable rubber
Rating: 4.5 out of 5 *(based on 3,863 reviews on Amazon)
The Kong Extreme dog toys are made for aggressive chewers like my dogs, the power chewers of the dog world! These tough toys come in a variety of sizes and are fillable toys. You can fill these up with your dog's favorite treats to keep them busy for about 20 minutes or sometimes longer depending what you use to fill it with.
I'd recommend using peanut butter mixed with dry kibble or other dry treats, so it'll keep 'em busy a bit longer. You can also freeze these toys after filling them up and that will add even more time for your dog to keep working at getting those goodies out.
These extreme toys from Kong are made of a durable black rubber compound in the USA, which is another plus in my book. I feel safer knowing this and maybe you do too.
Pros:
Made for powerful chewers
Variety of sizes
Fillable
Bounces – great for playtime!
Helps dogs with separation anxiety, barking, and digging problems
Useful tool for crate training
Many other dog owners including veterinarians, animal shelters, military K-9 teams, police (drug enforcement), and AKC trainers use and recommend the Kong toys
Cons:
Smell bad*
Not all dogs are interested in playing/chewing these*
Not entirely indestructible with some dogs*
* No matter what toy you buy for your dog, please do remember that all dogs are different. It may work well for many, but not all dogs. It depends on how much of a chewer your dog is, it's size and strength. For dogs that chew extremely heavily even for extreme chewers, it's recommended to order a size larger than what it recommends in the sizing chart.
Please supervise your dog with any new toy and observe for any pieces or breakage while it's chewing or playing with it. If it becomes worn or pieces are coming off, it's time to replace it!
Sizing Chart (according to checking through each size listing on Amazon)
Small: Dogs up to 20 lbs. Dimensions:   3  inches x 1.8 inches x 1.8 inches; Weight: 1.8 oz.
Medium: Dogs 15-35 lbs. Dimensions: 3.5 inches x 2.2 inches x 2.2 inches; Weight: 1.6 oz.
Large: Dogs 30-65 lbs.      Dimensions:  4   inches x 2.8 inches x 2.8 inches; Weight:   4  oz.
X-Large: Dogs 60-90 lbs.  Dimensions:  5   inches x 3.5 inches x 3.5 inches; Weight:  12  oz.
XX-Large: Dogs 85 +  lbs. Dimensions:  6   inches x 3.9 inches x 3.9 inches; Weight:  1.2 lbs.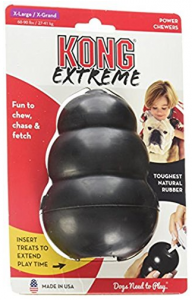 The X-Large size works well for dogs 60-90 pounds…mine are both in that range and these have done just fine with our two destructive dogs. One is an Old English Bulldog, and the other is a mixed breed, 1/2–Old English Bulldog and 1/2–husky/yellow lab mix. And, no this is NOT the type of bulldog that is short and small…this breed is a rather long-legged, taller breed of bulldog and very powerfully built.
Reading through the many reviews on Amazon, quite a few other dog owners use the X-large size for pit bulls, German shepherds, American bullies, boxers, and labs…just to name a few that I found mentioned quite often in the reviews of the X-large size Kong Extreme…
Hopefully this will help you choose the correct size for your dog. If you order one that is too small, it may not work that well and your dog may be able to chew pieces off… Or, heaven forbid…fit the whole thing in its mouth, which may cause a choking hazard as with any toy if it's too small in relation to the dog's size…so, please be aware of the sizes and recommendations.
>>Yes, I'd like to Order the Kong Extreme for my dog <<
What do you think of Kong Extreme Dog Toys? Have you ever used these? Do you have any suggestions or other recommendations you'd like to share? Questions you'd like to ask?
Please do let me know in the comment box below…I'd love to hear from you!