Hey there! Some links on this page are affiliate links which means that, if you choose to make a purchase, I may earn a small commission at no extra cost to you. I greatly appreciate your support!
Help Your Overweight Dog Shed Some Pounds…While You Lose Weight Too!
Ever wondered if there are ways to help your dog get some extra pounds off that will help you lose weight too?
Well, I've got news for you! It can be done and it's not all that hard! All it takes is some time and effort. I can't promise you anything, since I'm by no means a doctor or an expert in health and fitness, but this is what worked for me and my dog!
This thought or something similar been crossing your mind?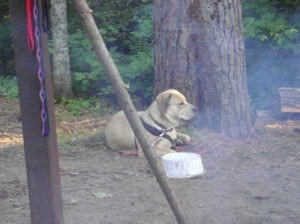 Oh, NO!… My jeans must have shrunk! Stupid dryer!
Or, a thought along these lines…
Wow, that collar is getting small!…must be the material it's made of or something!
Things not fitting either of you right anymore? Okay…are both you and your dog overweight?
Or, has some malicious prankster been putting your clothes in the dryer on high?
…along with your dog's collar? Really???
Even if you're not overweight, but your dog is, this will probably benefit both of you to feel a lot better since exercise and fresh air will improve your circulation and often your mood too.
It Must Be The Winter Season…It's Too Cold!
Has the Winter season caused not only you, but your best four-legged friend, to gain unwanted weight?
But, it's waaaay too cold out there! Well, good excuse…
But….,
unless it's below zero, it's not that bad for a short walk with your dog…you do warm up after awhile as long as you wear the proper clothing…and they do have clothes for dogs too!
I Don't Have The Time to Go for a Walk!
The excuse, "I don't have time right to do a proper exercise routine every day." It doesn't matter if it's only a short walk every day…
only 20 minutes a day will work!
That's it, 20 minutes a day, and you'll both get enough exercise and fresh air to shed a few pounds and feel great!
I've got to admit it, I've used  the same old excuses…time and time again!
There's been many times in the past that I've felt too unmotivated to go out and do anything about it. Think how happy your dog will be to spend some quality time with you…
It's only 20 minutes out of your day and your dog would love it!
So, think about your dog! Especially, if it's overweight…starting to get a little bit chunky as it gets older? Going for that little stroll can do wonders to lose some pounds and you'll both feel rejuvenated, even if you are gettin' old.
Overweight Dogs and Health Problems
Just like a person, your dog can suffer from some serious problems if it becomes overweight. Dogs, especially some of the larger breeds are more likely to suffer from bone and joint problems in the back and hips…usually known as arthritis.
Dogs that are already likely to suffer from these types of health problems become overweight, they often suffer sooner in life and to a much greater extent.
Another problem of being overweight for many dogs is the fact that it becomes harder for them to breathe properly. Extra pounds will make it harder on your beloved furball during hot weather or extreme conditions.
Ways Your Dog Will Motivate You
Yes, your dog will probably motivate you to keep it up every day!
I know mine did, especially when I was doing a good job of sticking to a routine of going every single day! They made sure I did not forget…pestering me until I gave in sometimes if I just didn't feel like it at first.
Although a bit reluctant to get out there some days…especially those freezing cold days we get around here. Once I'm out there with my faithful companions, I realized it wasn't that bad after all!
I realized I actually enjoyed it! ….and not to mention the look...
Oh, how guilty I feel when they give me their look! I'd rather avoid it if I can.
Do Yourself and Your Dog a Favor
Why not shed a few pounds, get more muscle tone, and feel better about yourself?  You have at least 20 minutes don't you?
Although I'm by no means any kind of health expert, here's what I've done in the past…
And, it helped both me and my dogs to lose weight!
Yes, I too must get myself back into walking every day, like I used to a couple of years ago…I felt so much better back then!
Plus, once in a routine of walking every day the dogs are much happier also, which is another bonus!
* Disclaimer *

* I would always recommend that you follow the advice of your doctor and what exercises may or may not be suitable for you…and your dog to follow veterinarian's advice too, especially if there are already health problems or other concerns. *
Tips on How YOU Can Start Your Own Weight Loss for Your Dog…and You!
Start with a slow walk with your dog for 20 minutes every day.
Do the 20 minutes a day until you feel that it is getting easy for both of you.
If you can, increase the pace you and your dog are walking at. If not, don't worry about it and enjoy the walk. After all, it is still exercise!
Increase to 25 minutes a day for both you and your furry friend.
Keep increasing the time by five or even ten minutes at a time, depending on what you feel you and your dog can do and depending how much time you have.
Build Those Muscles!
Doesn't matter how long it takes to go for a walk and you'd rather walk a mile or two?
By all means do so!
But, remember don't overdo it at first…

If this is something new to you and your dog, start out slowly and build your way up to a longer distance each time…even if it's only a few feet farther each day, it adds up.
This will greatly improve your endurance, help you lose unwanted pounds, and build up your muscles.  Not to mention, your dog will benefit in the same way as you physically, and since it's getting the exercise it needs…
it's also going to be less likely to get bored and chew on your shoes!
What are you waiting for? Get up and get out there with your best furry friend! Your dog will appreciate it 🙂
I hope this helps you and your dog in becoming healthier and happier together!
I'd love to hear any stories you'd like to share. Have you or your dog lost some weight by walking those pounds off?

Any questions you'd like to ask? Go ahead and ask away, and I'll be happy to answer as best I can.
Please feel free to comment below and share this with your friends! Thanks for reading!
🙂 -Sherry