Hey there! Some links on this page are affiliate links which means that, if you choose to make a purchase, I may earn a small commission at no extra cost to you. I greatly appreciate your support!
Choosing the Right Dog Ear Cleaning Solution
Not sure what one is the best? You're not alone!
Trying to pick out the right one for my dogs was one of the problems I've had in the past. It was darn near impossible to decide which one would work best for not only my wallet, but for my dog's delicate little ears.
There's so many brands and different varieties in ear cleaners for dogs it's mind boggling. You finally pick something only to find you have to decide what you really need it for…
Are you buying it to use in a normal ear cleaning routine or are you buying it to treat a problem such as smelly ears, crud built up in the outer ear, ears appear red and/or itchy ?
If it's the latter, then your dog most likely has an ear infection of some sort or another and I'd recommend having a vet take a look. Usually your vet will prescribe an antibiotic for this, but sometimes even that doesn't completely clear it up.
Smelly, itchy ears after using antibiotics to get rid of an ear infection does happen. You may want to go back to the vet again, but you can also try ear solutions that are specifically made for this problem.
How to Cure Dog Ear Infection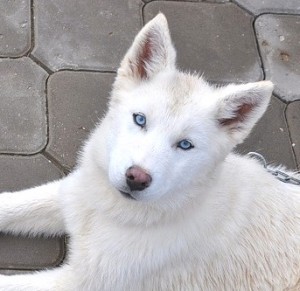 There are products out there that many people say work. After researching through reviews of other dog owners I've decided to make a review list of my own to help you decide what would be the best in your pooch's situation.
No, I'm not going to guarantee these will work without a doubt; every case is different just as every dog is different! I'm not a veterinarian, only a fellow dog owner wanting to help others make the best choice possible for their beloved canine friend.
Reviews of Medicated Ear Solutions for Dogs
Below I've included the products that I've found that are designed to help treat your dogs ear problems such as itchy, red, irritated ears often caused by ear infection.
Zymox Ear Solution with 0.5-Percent Hydrocortisone, 1.25-ounce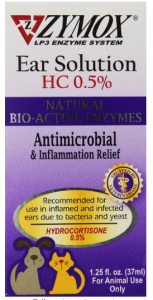 **Updated June 13, 2016**

List Price: $13.99
Price:      **$13.97
Average Rating: 4.8 out of 5 **(based on 1,338 reviews on Amazon)**
Country: USA
Size: 1.25 fl. oz. (37 ml)
Zymox Ear Solution is one of the most highly recommended products for treating dogs and even cats ears. It is an ear cleaner Plus a medication, so I wouldn't use it on a regular basis. I'd only use it when needed to treat infections and not as a regular ear cleaner.
What it does:
Cleans out ear, getting rid of pus and any debris that may be in there, and destroys the stubborn antibiotic-resistant "bugs" or microorganisms that are causing the itchy, red, or smelly ears.
Includes three natural bio-active enzymes to fight infection. Plus, the hydrocortisone in this product will help ease any pain and itchiness your dog may be suffering.
Use it to treat these types of infections:
Bacterial
Fungal
Yeast
Includes Staphylococcus, Pseudomonas, Proteus, & Malassezia
How to Use:
*Please READ the label before using Zymox or any type of products on your dog! There's usually additional information on the box or in the included directions for use.*
Apply liberally to ear canal
Gently massage ear
Wipe away any excess with clean paper towel, gauze, etc.
Use once a day for 7 days or for chronic infections use for 14 days
Safe to use longer for persistent cases
Do NOT use with Zymox ear cleaner – remember this IS an ear cleaner!
Do NOT clean ears before or during the use of this product – it won't be effective!
Safe for both dogs & cats of all ages
PROS
No cleaning your dog's ears before using
Safe & effective treatment for ear infections
Works on both dogs & cats
Reduces or eliminates pain and itching caused from ear infections
CONS
Small size and no larger bottles available. See note below.
Note: Recommended to use one bottle per ear for 7 days, so if both ears are infected you'll probably need two bottles to have enough to last for all 7 days.
If your dog's ears stink like dirty, sweaty gym socks, then I'd give this ear treatment a try!
>>Click here to Order Zymox Ear Solution Now
<<
---
*Prices are as of this posting or within updates to this posting and may be subject to change.* **Updated June 13, 2016** Please also note affiliate disclosure below page*
---
ProEar Dog and Cat Ear Cleaner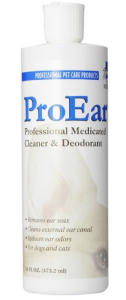 **Updated June 13, 2016
List Price: $17.49
Price: $11.47 *SAVE $$$!*
Average Rating: 4.6 out of 5 *(based on 83 ratings from Amazon)**
Country: USA
Size: 16 fl oz.
ProEar Dog and Cat Ear Cleaner is listed as a medicated ear cleaner, and it appears there are a few people out there using it and liking it.
Of course, I mean using it on their dogs! Not themselves…
What it Does:
Loosens & dissolves ear wax
Keeps ears smelling good
Used weekly after bathing or swimming
Can be used every few days for extremely dirty ears or ears that get dirty easily (according to some dog and cat owners who have used it as such)
Ingredients:
Isopropy alcohol 35%,
Salicylic acid,
Oil of eucalyptus,
Polysorbate 60,
FD&C yellow #5,
FD&C red #40,
FD&C blue #1
PROS
Includes Isopropyl Alcohol, which helps dry ears out
4 sizes available – 4 oz., 16 oz., 1-gallon, 2.5 gallons
Safe for both dogs & cats of all ages
CONS
Burned dog's ears (according to some dog owners)
Container only half full when it arrived (according to one dog owner's review on Amazon)
**Looking at this product as I'm updating this review, it definitely appears promising since there are now 83 reviews. Most importantly, the recent ones are giving favorable recommendations of this product.
So, I'd definitely give ProEar a try someday! ….on my dogs, not me!
There wasn't too much information on this product to go by, but according to the research I've done so far on this one, it seems pretty good.
However, if your dog has very sensitive, scratched, or open sores in its ears beware…
…it will probably sting due to the alcohol in it!
Got ears that need cleaning? Give it a try…based on what other dog owners say about it, I'd recommend giving it a try!
>>Click to Buy Top Performance ProEar Dog and Cat Ear Cleaner, 16-Ounce
<< while it's on Sale!
---
---
As always I hope this helps you in deciding which ear cleaning product to choose for your dog.
I'd love to hear what you think. Have you tried either of these products? Did you like them or not?
I'll be adding some more to the list soon, so if there's one you'd recommend let me know in the box below.
And, if you ever have questions, please do ask! I'll be happy to answer, just leave them in the box below too 🙂 -Sherry
*Prices are as of this posting and may be subject to change.*
**Ratings are based on reviews found on Amazon.**