Hey there! Some links on this page are affiliate links which means that, if you choose to make a purchase, I may earn a small commission at no extra cost to you. I greatly appreciate your support!
Is your dog constantly shaking its head like it's trying to shake something off?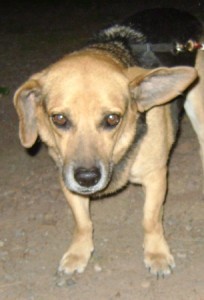 If your dog shakes its head until its ears are flopping and flapping around then I'd say there's probably something wrong with your dog. No, I don't mean mentally either! But, there's something causing it to do this and it probably doesn't feel good.
I'm not a vet, but I've owned dogs for years and I've had more than a few experiences of the head shaking, ear rattling dog….
This behavior is more often than not caused by your dog's ears. Well, not it's ears exactly, but an infection of the ears. Shaking is the only way they can try to alleviate the pain and discomfort they're in.
Sure, your dog might shake its head once in awhile after a bath or a swim. That's normal, they're trying to get whatever is in their ears out!
But, if it continues it's a problem, which can turn into a lot of pain if not treated. Irritation and inflammation to the dog's outer ear canal can lead to infection. Try to keep water from going in your dogs ears as much as possible when giving your dog a bath and dry them out as much as possible too.
You've gotten water in your ears before too, right? It feels weird and it's annoying. Plus, it's hard to hear very good. Everything sounds muffled. So, how do you think your dog feels about it?
Probably the same as you did. But, what about when your ears hurt, feel plugged, or are itching like crazy? What would you do?
Well, you'd be pretty darn grumpy for one thing…and, you'd probably be scratching, rubbing, and picking too. Maybe some swearing too!
If you're not sure how to clean your dog's ears watch the video below. This is one I found that may be helpful to you from Greencross Vets.
No, not only water can be a problem in your dogs ears. There are other things that can cause irritation and eventual infection too, such as yeast and excessive bacteria that normally grow on the skin.
But, for now, does your dog have any of these symptoms?
Signs of Ear Infection in Dogs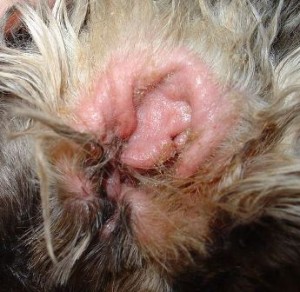 If your dog has any one or more of the following symptoms, I recommend you get your butts to the local vet!
Head shaking or tilting
Pawing at head & ears
Scratching at ears
Rubbing head against you, furniture, floor, etc.
Whining (especially while scratching ears)
Redness
Foul odor
Drainage
Hair loss around ear
Swelling
Walking around in circles
Loss of balance
Poor temperament
Ears sensitive to touch
So, any of these sound like your dog? If so, please have a vet check it out! Don't make your best friend suffer.
You wouldn't want an earache for weeks on end because of an ear infection yourself now, would you?
No? You wouldn't? Of course not, it'd drive you absolutely, somebody-rip-my-ears-off-please CRAZY!
And, if left untreated, ear infections can lead to much worse things not to mention a LOT of pain.
Most Common Causes of Ear Infection in Dogs
Allergies
Dirt
Sand
Grass Seeds
Excess wax buildup
Hair
Parasites
Incorrect cleaning
Excess water in ears
Insect bites
Ear mites
Polyps
The list above is what could be a cause to your dog's ear infection and it's head shaking behaviors. But, of course there could always be others. Anyways, what starts as a minor irritation can lead to an ear infection.
Okay, I'm going to say it again…
Please bring your dog to the vet if it's showing any of the above mentioned signs. It could be an ear infection or it could be something else. So, be a friend to man's (and woman's) best friend and have it checked out before it gets worse.
5 Tips to Prevent Ear Infections in Dogs
Use a gentle ear cleaner for dogs
Dry the inside of ears out with gauze or cotton balls
Do NOT use Q-tip swabs
Do NOT use rubbing alcohol or any other product that will irritate the skin further
Maintain proper grooming & avoid excess hair
Not sure what's best for your situation? If your dog may have an ear infection, check out my review of medicated ear cleaning products on Dog Ear Cleaning Solution. If you're looking for an ear wash to use on a regular basis you might want to check out Clean Dog Ears – Dog Ear Wash Reviews
* One more thing to mention: Dogs suffering skin or food allergies are more susceptible to getting ear infections than others since allergies will cause inflammation in their skin even if you can't really see it. This often leads to yeast and bacteria to overpopulate the skin causing a nice smelly infection. Yuck!
Thanks for reading! I'd love to hear from you, my fellow dog lovers. Did you find this helpful? Do you have any advice you'd like to add or questions you want to ask? Fill out the comment box below and feel free to share this with your friends!
Or, if you'd rather I email you back, you can always fill out the contact form found here.
Best wishes to you and your furry, four-legged friend! 🙂 -Sherry